Can Collecting: How functional packaging can become a collector's item
With 20 000 different cans of Coca-Cola in his collection, Davide Andreani is a Guinness World Record holder. He has designs from all over the world and every possible taste including many limited editions. It is their uniqueness that makes these cans a real collector's item. Your can design can play an important part in your marketing story.
1. Be unique, stand out
Davide looks for special Coca-Cola cans. Every event can be a reason to design a special can. It's this flexibility and versatility that makes cans such an attractive commodity. As the surface area you can print on is a lot bigger than most other beverage packaging options, you've got more room to play. 
You can easily create different designs for different target audiences. This way, you'll find yourself in a win-win situation, as these target groups will feel it appeals to them directly. The result? Your can will be their number one choice, on top of giving it value for collectors.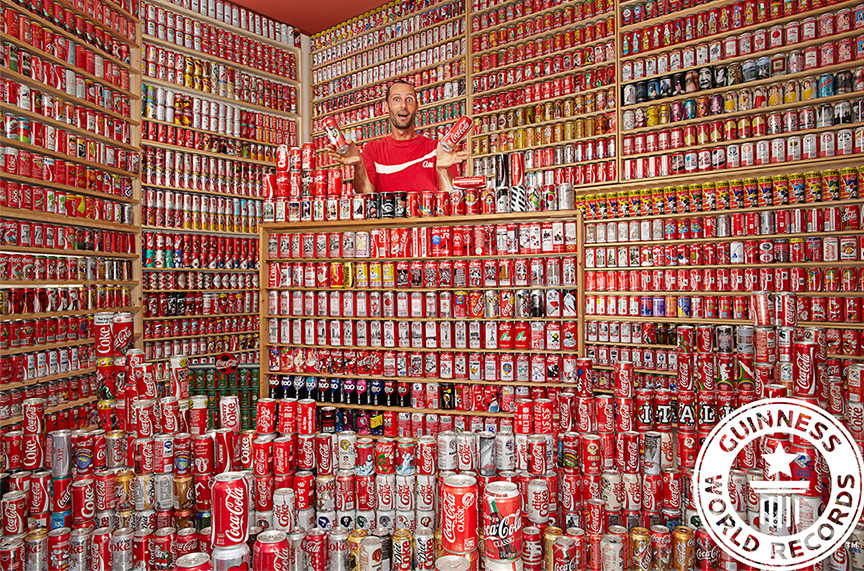 © Guinness World Record – Davide Andreani has the biggest Coca Cola can collection.
2. Score with a limited edition
It goes without saying that limited editions of your product are unique. They're often linked to an event sponsorship deal, like soccer tournaments or the Olympic Games. As one of the official sponsors, Budweiser developed "golden" metal bottles for the 2014 Soccer World Cup.

© Budweiser (2014) / Can size: Aluminium bottle / Customer: Budweiser / Region: 40 countries
It's not just sporting events that lend themselves to the creation of limited editions, it also works well when it comes to movies. Look at these amazing Star Wars cans or some limited edition Freedea cans with the Justice League superheroes.
© Star Wars (2017) / Can size: 355ml sleek / Customer: Drink Department One / Region: Germany/Central Europe
© Freedea (2017) / Can size: 33cl sleek / Customer: Campari / Region: Italy, Southern Europe
Belgian brand Stella Artois introduced an exclusive series of cans as a sponsor of the Cannes Film Festival. Each can was printed with a scene that would give customers a chance to fantasise and create their own story.
© Stella Artois (2016) / Customer: SUN InBev / Region: Ukraine / Design by BBDO
Holidays are great for limited editions too. In Germany, beer brand Tuborg launched a series of big cans (750 ml and 1 litre) in 2014, decorated with a special Christmas design.
© Tuborg (2014) / Can size: 75cl and 1l / Customer: Carlsberg / Region: Germany
This year, our expectations are high for the Soccer World Cup in Russia. Keep an eye on our blog for an overview of all the most interesting creations.
3. Everything is cyclical
Metal can be recycled again and again, with no loss of their inherent properties. A beverage can may find itself back on the store shelves within only 60 days. These vintage cans however escaped the recycling process, and are a good illustration of the evolution of cans. In the early days, the packaging was a lot heavier, something you can see and feel. Fact is, pristine vintage cans are hard to come by – it's why they are often worth a lot of money, if only for the joy of getting reacquainted with old logos of famous brands.
4. Art & Cans
Art and cans go hand in hand. Give an artist free reign with your product and you'll see amazing results. Perrier saw an amazing opportunity with Juan Travieso. The brands wanted to reconnect with our animal instinct. Five other items were also launched during this campaign: a notebook, a waterproof backpack, a unisex sweatshirt with a wolf design, a leopard head trophy and a bike. Dutch beer brand Bavaria designed a Van Gogh can.
© Perrier x Wild (2017) / Can size: 25cl slim / Customer: Perrier / Region: France, Southern Europe / Artist: Juan Travieso
© Bavaria (2017) / Can size: 50cl standard / Customer: EFES / Region: Russia, Western Europe/ Van Gogh designs on cans
5. One mistake can lead to an interesting business
It's not only the cleverly designed cans that attract the attention of collectors. Production errors are so rare, they are worth a lot. If you find an unopened empty can in your six-pack of Coca-Cola cans, according to Buzzfeed, it is worth more than 250 000 dollars.
Your can's design is important. It helps you stand out from the crowd, especially on the store shelves where you are competing with dozens of other brands. You shouldn't only experiment with the printing on the can, as every aspect of it can be customised: consider embossing, use high-quality printing methods, go for neon or glow-in-the-dark colours and even adapt the lids to your liking. 
--
Metal Packaging Europe gives Europe's rigid metal packaging industry a unified voice, by bringing together manufacturers, suppliers, and national associations. We proactively position and support the positive attributes and image of metal packaging through joint marketing, environmental and technical initiatives.
Stay up to date with more insights and subscribe to our mailing list >>