Drinktec 2017: the best of the beverage can industry in Munich
From September 11 to 15, the Munich Messe was the venue for DrinkTec 2017, the world's largest trade fair for beverages. It was the perfect place to get a good overview of the beverages in cans business and see the latest innovations of our members.
A record number of visitors - more than 76,000 from over 130 countries - attended the fair, and could see 1749 exhibitors in 15 halls … including three of our own members: Ardagh Group, Ball and CROWN. It was interesting to see just how vibrant the beverage industry is at the moment and the number of innovations and new products confirms this. Rachel Arthur of Beverage Daily was in Munich throughout the week and was kind enough to share her thoughts on the week: "Some people have been working on their concepts and inventions for years and so are excited to introduce them."

Innovations at Drinktec
Larry Nelson of Brewers' Guardian also saw lots of new things at Drinktec: "This event never disappoints. There is so much to see every 4 years, and so many new innovations. Incredibly, there are still ways to achieve the same result with less material. For example, KHS has a new way of holding six pack cans. They do so using dots of glue – it's another way of making packaging more environmentally friendly." At the stands of our three members, you could also discover new innovations: new can sizes, new shapes, ... there was even progress on the internet of things story.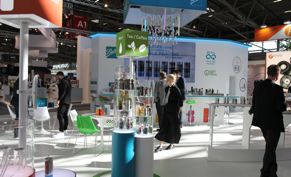 76.000 VISITORS
130 COUNTRIES
1749 EXHIBITORS
15 HALLS
ENDLESS POSIBILITIES

Trending beverage segments
 Larry Nelson: "Craft beers have certainly helped make the metal can more popular. You can see this,  everywhere you look." Rachel Arthur: "But it's also happening in the non-alcoholic segment, where it's all about health and wellness. You can find more and more canned water, soft drinks with less sugar and  more natural sweetener. Also there are more functional beverages."
 
 CanO water is one brand that has chosen the can as preferred packaging. They use recycled cans for  their sparkling and still waters.
Sustainability and transparency
 Rachel Arthur: "Consumers increasingly want to know how their products are being produced and re-cycled after use. It's all about openness and sustainability. You can also link this to the movement for healthier drinks: customers want to know what they are consuming. It will certainly become more important, also for the brands themselves, as they will have to be able to explain the ethical choices they  make." Metal Packaging Europe is already playing its part with its 'Metal Recycles Forever' logo. Each of  our 3 members gave it a lot of attention on their stands, and more and more brands use the logo on their  product.
The 'Metal Recycles Forever' logo was all over the stands of our members. It's clear that sustainability is becoming more and more important for brands and consumers.
The winners of the World Beverage Innovation Awards were announced on the 14th September. One of our members was the laureate in the category 'Best can or alubottle'.
Keep an eye on our blog if you would you like to hear more from Drinktec 2017 and about the innovations in the beverage can sector.
We will be posting interesting videos of the interviews we collected at DrinkTec 2017.
Happy canning to you : - )
--
Metal Packaging Europe gives Europe's rigid metal packaging industry a unified voice, by bringing together manufacturers, suppliers, and national associations. We proactively position and support the positive attributes and image of metal packaging through joint marketing, environmental and technical initiatives.
Stay up to date with more insights and subscribe to our mailing list >>