A poster boy for the craft beer industry
Marketing Case: Beavertown
There are hundreds of craft beers in cans these days, and new brews are launched on an almost daily basis. This shouldn't really be a surprise, as cans deliver a number of advantages, such as ensuring consumers get a high-quality product experience. Cans are lightweight, meaning that both brewers and retailers can move the same amount of beer in fewer trips: that's lower logistic costs and less CO2 emissions. On top of all that, they offer an exceptional visual space that has been embraced by the entire beverage industry. Beavertown Brewery in London also chose cans to distribute their craft beers. Nick Dwyer, Creative Director, tells us why.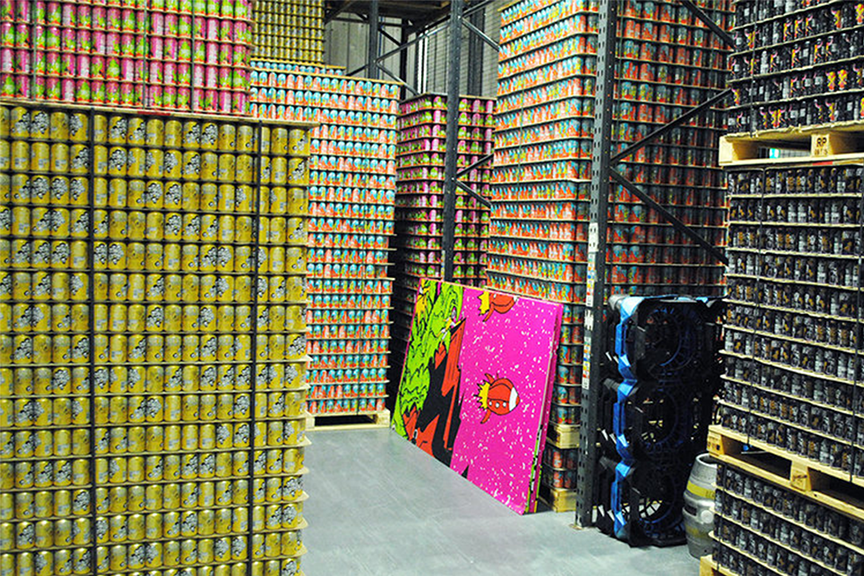 ©Jack Muldowney
Label designs catch consumers' attention
Research has confirmed that 'smart label designs' are more important than shelf-space in catching the consumers' eyes. As a consequence, it's no surprise that craft beers have embraced bold packaging and eye-catching designs.
"The big guys are fascinated by it to the point of confusion," says Nick Dwyer, the Creative Director at Beavertown Brewery in north London. According to Dwyer, "Beavertown's beers were already winning hearts off the back of being amazing before I came along and slapped my drawings all over them. But it definitely helps to differentiate us, and on top of that, it helps people gravitate towards something they may not even be aware existed!"
©Realagom.com - Beavertown the art of the can
How the new can designs came about
It felt like a necessity for Beavertown Brewery to go for a brave new design, according to Nick Dwyer, as the brand needed to evolve with the move into cans (from the previous, dollar bill inspired designs). He explains how it happened and how he works with Logan Plant, the founder of Beavertown Brewery. "The fact that we needed to move relatively quickly also came into play, but primarily, it was Logan who made the call because he trusted me to put his inspiration and ideas behind the beers onto paper. For example, the (soon to be heavily tweaked) 8-Ball design came together overnight … we talked about it at the brewery and discussed Logan's "dry, red desert" and "psychedelic mountain ranges" ideas at length, … I went home and worked out a design that same evening."



©Nick Dwyer
As Nick Dwyer explains, "The great thing about being full time Creative Director at the brewery is the ability to change things where necessary, and recently I have been rebranding and tweaking the core range designs to varying degrees of differentiation. Sometimes it's to bring them in line with the rest of the range, sometimes it's a slight change of concept, and, as with 8-Ball, sometimes it's simply because I feel like I can do a better job on the illustration!"



©Nick Dwyer
Freshness rules at Beavertown Brewery
One thing is certain, the customers certainly appreciate the beer … Just look, for example, at the comments on the 8 Ball Rye IPA beer on the BeerBods website. "Every aspect of our brewing process is meticulously considered and our unique artwork is integral to our expression and philosophy as a brewery." Unique, the artwork most certainly is. One look at the website or the Instagram feed confirms it. You can even buy posters of the beer can designs on the Beavertown website. Be quick as the posters are limited editions and selling out quickly.
It's clear though the company is not resting on its laurels, "The brand refresh continues...," one recent post says, "and we're going back to where it all began." The result? They've dropped the brands "B" logo entirely, and now design artwork that incorporates the logo more elegantly.
Is this a whole new chapter in Beavertown Brewery designs? "At long last this feels done," concludes Nick Dwyer, "I won't be touching it again, promise." Famous last words no doubt … it'll be interesting to see what they do next and how the rest of the craft beer industry reacts.
--
Metal Packaging Europe gives Europe's rigid metal packaging industry a unified voice, by bringing together manufacturers, suppliers, and national associations. We proactively position and support the positive attributes and image of metal packaging through joint marketing, environmental and technical initiatives.
Stay up to date with more insights and subscribe to our mailing list >>